Cord-free. Powerful suction to pick up fine dust and debris
Up to 40 minutes of fade-free suction1
115 Air Watts of powerful suction
Direct drive cleaner head for strong pick-up performance
Quickly transforms to a handheld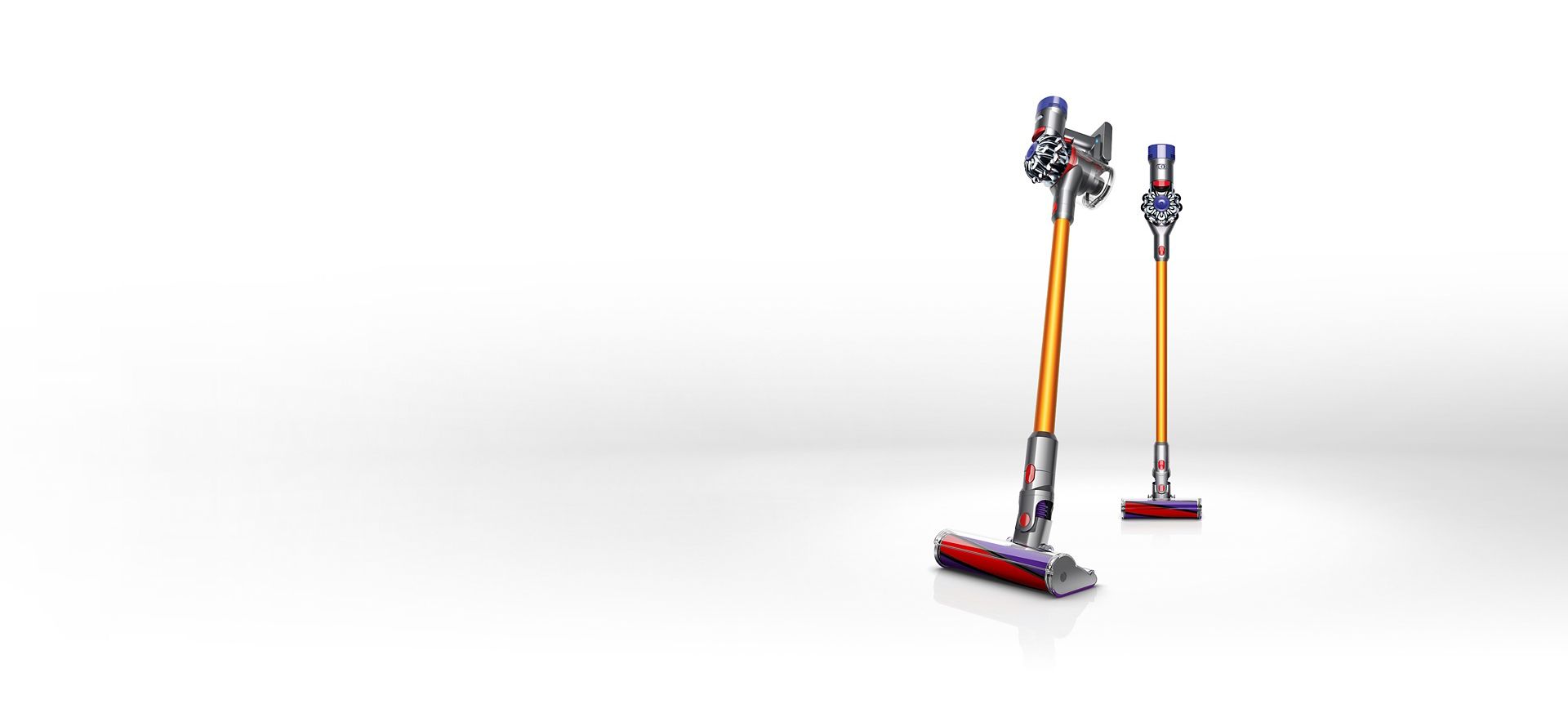 Powerful suction driven by the Dyson digital motor V8
Digital pulses switch the polarity of neodymium magnets, to spin the Dyson digital motor V8 at up to 110,000rpm. Producing up to 115 Air Watts, it generates powerful suction on carpets and hard floors.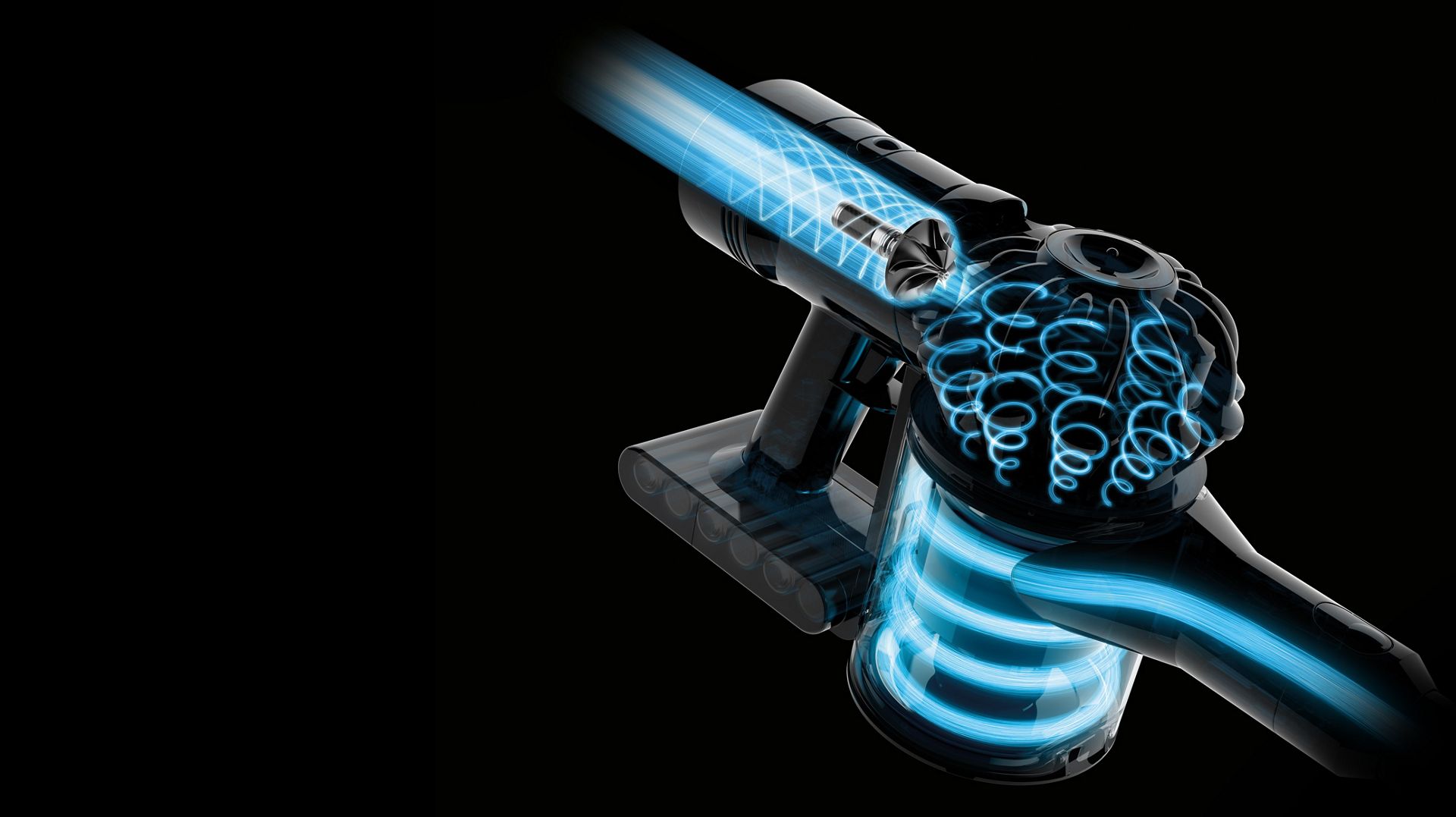 Up to 40 minutes run time1
The six-cell lithium-ion battery has been engineered with nickel-cobalt-aluminium chemistry. With the ability to store a high charge per unit volume and to discharge this energy quickly, the Dyson V8™ vacuum has up to 40 minutes of fade-free power.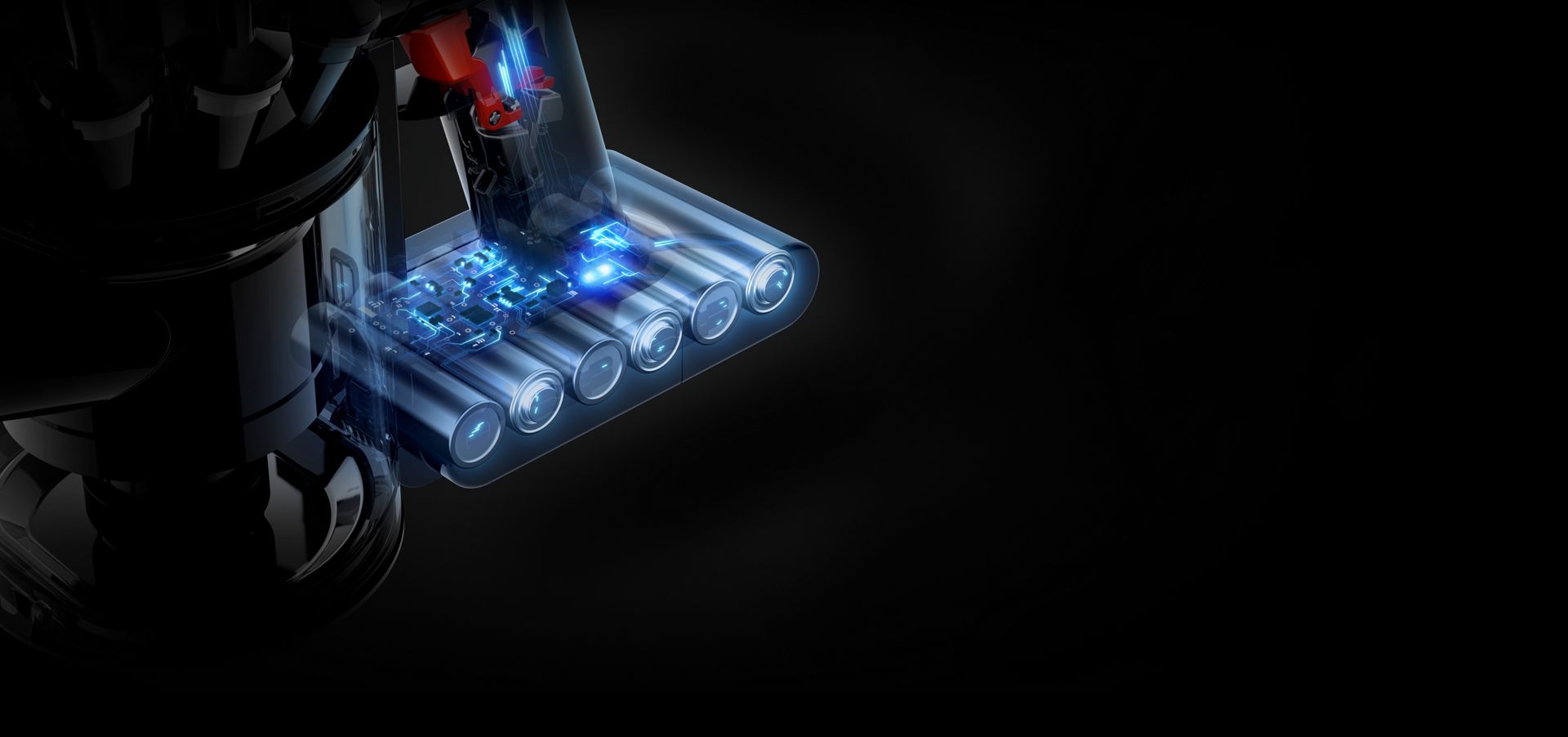 Drives dirt from carpets

The direct-drive cleaner head's motor pushes stiff nylon bristles into carpets to capture deep-down dirt.

Gentle on hard floors, tough on dirt

The motor-driven brush bar is covered in soft woven nylon to trap large debris, while the anti-static carbon fibre filaments remove fine dust.
Explore the technology
Power up. Noise down.
Whole-system filtration

With an airtight gasket around the cyclone assembly and a pressurised rubber seal around the advanced filter, the whole system is fully sealed – preventing dust, allergens and bacteria from leaking back into the air. This means the vacuum retains 99.97% of dust as small as 0.3 microns2, and expels cleaner air.

2-Tier Radial™ cyclone technology

14 small cyclones each generate powerful G-forces to fling dust into the bin. It's optimised to provide filtration with minimal pressure consumption, for more suction. So it captures microscopic dirt particles as small as 0.3 microns – almost 100 times smaller than the width of a human hair – and expels cleaner air.

Acoustic control

Streamlined airways and open-cell foam direct airflow around the motor to reduce noisy turbulence. A converging fluted funnel on the back of the motor reduces noise further, along with an acoustic baffle that blocks the line of sight to the sound source, and acoustic felt and closed-cell foam that absorbs vibrations.
The right power when you need it
Two cleaning modes to suit any task on any floor type.

Powerful suction mode
Strong suction for versatile cleaning in hard-to-reach areas, across hard floors and short pile carpets.

MAX mode
Designed for quick, intensive cleaning.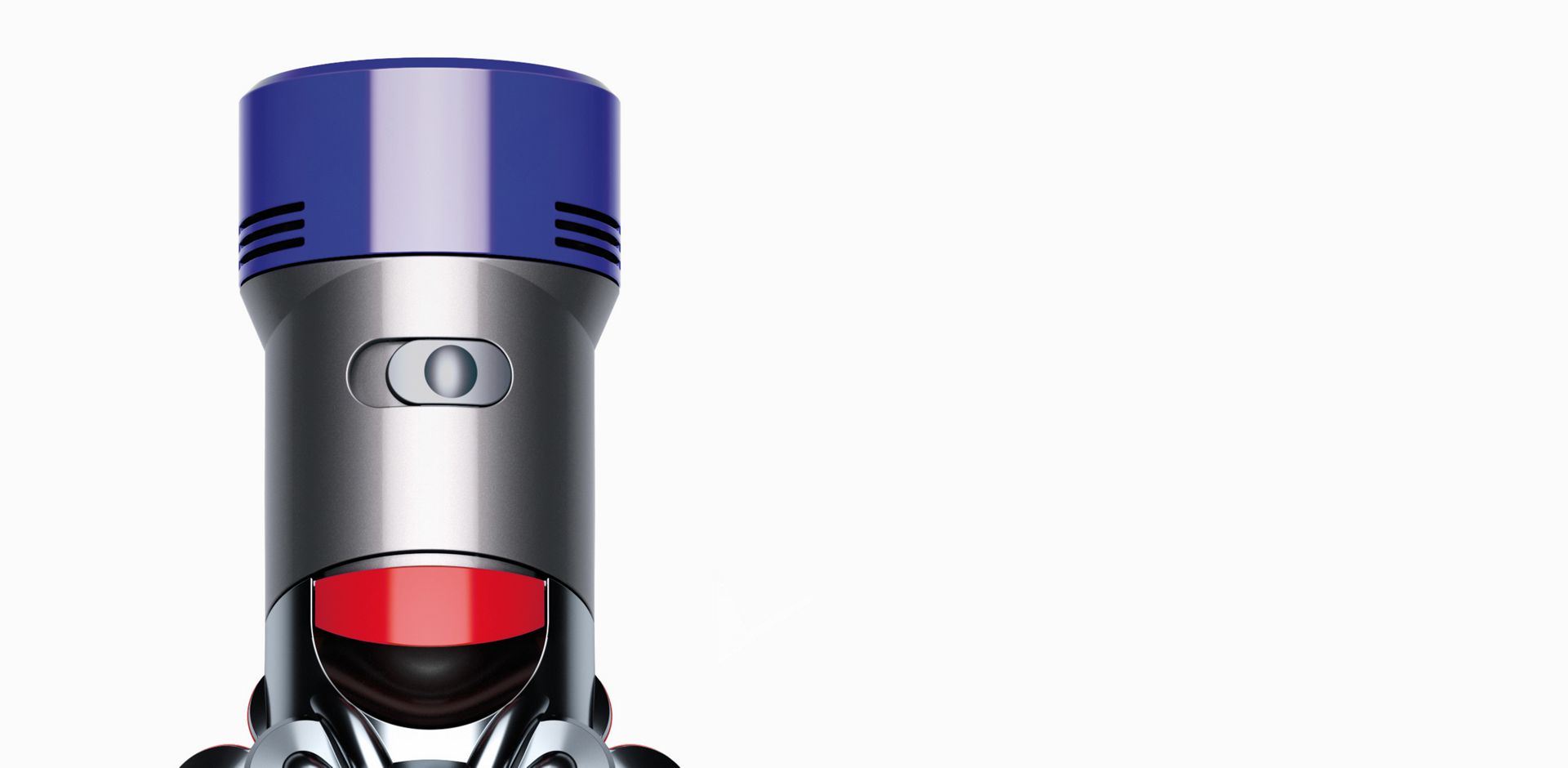 Cleans up to 40 minutes1
Dyson cord-free technology makes cleaning easier all around your home.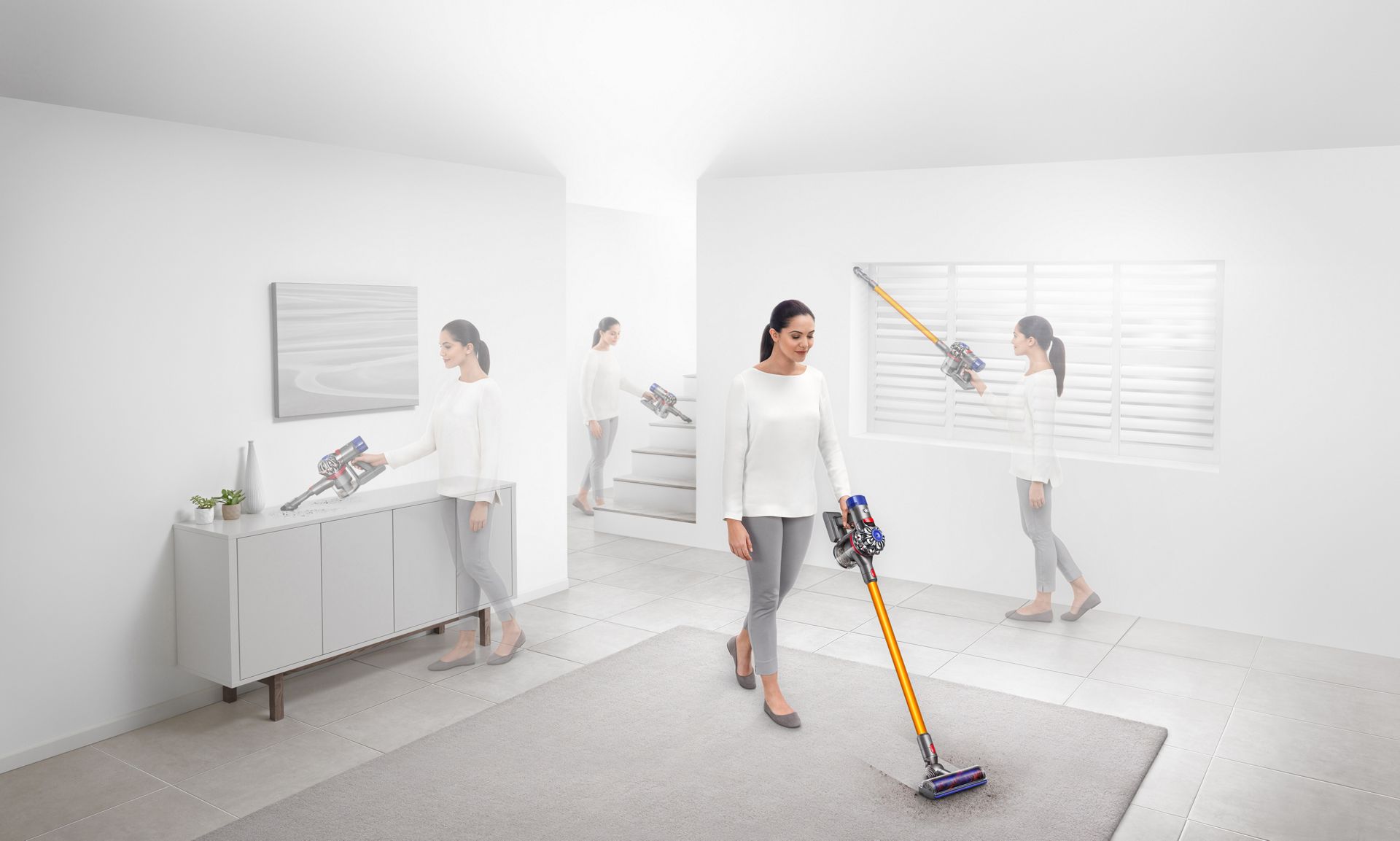 No-touch bin emptying

The hygienic dirt ejection mechansim drives out trapped dust and debris in one easy action. Just pull the lever to release it into your home's bin.

Quickly transforms to a handheld

Changes to a handheld vacuum cleaner in just one click. For versatile cleaning throughout your home and beyond.

Always to hand

The wall mounted charging dock recharges your Dyson V8™ vacuum. So it's ready whenever you need it, and easy to store as soon as you've finished.